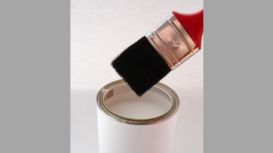 Decorating your property can transform its look and feel, as well as possibly boosting its resale value. For first rate workmanship at competitive rates, you need to speak to me, George Forde, owner of A1 Painting and Decorating, Portadown's premier painters and decorators. At A1, we are A1 by name and nature! With us, you will receive service and workmanship that's second to none - each and every time!
Based in Tandragee, I am proud to serve the local community, as well as being happy to travel across Northern Ireland. I cater for both domestic and commercial clients, and I provide FREE, NO OBLIGATION quotations.
---
Reviews and Ratings
AVOID AT ALL COSTS!!! Arrived 2 months later than agreed. No prep work or cleanup. Paint on the floor, new oak furniture, and broken blinds in every single room. Paint on custom painted Stonelux fireplace whilst not painting under mantel? Radiators peeling after two uses despite our providing proper paint which he would not use? LR ceiling splotched with filler and painted over. Hideous.

Newly hung wallpaper covered in gloss paint in one room, and not even cut properly around door frame in another leaving jagged edges? Used expensive furniture as paint table. Found razor on it along with the paint. Caused injury to myself as left broken blind in place without informing us, and I cut my thumb badly. Seams in the wallpaper not glued shut. When shown shoddy work told, "It is what it is."

Refused to paint the ceiling in the kitchen despite it discussed at hiring? Did not provide additional wallpaper as discussed and included in the price for the wardrobe which will be coming down? Wanted cash for tax purposes, but didn't give invoice or receipt? The Assistant stated he couldn't keep help due to his attitude, and that he didn't care about anything? Touted son in the church in Belfast, but is doing a great disservice to him with his slovenly work habits, and attitude. I felt intimidated in own home.

Worked about 26 hours as refuses to work Fridays which was not discussed? Charged £980 for the worst work of any painter in either of our lives. About 123 years. We are Christians and have never left a bad review, but this is a public service. Please avoid. Photos available upon request simply email me. All, but the furniture which we scrambled to clean immediately, and which he watched me cleaning paint off the £650 sideboard before he left.

Feel exploited. Will have to hire someone to fix what he did, and will have to replace custom blinds that he broke. I believe the British term is, "cowboy!" Husband retired HMRC. I retired RN/RGN. Good people. Husband terminal which he knew, and left us this way. Shameful! Very angry!